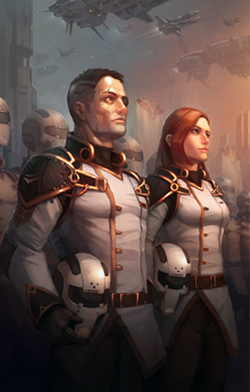 The Empire is a great war machine, perfect in its submission to the leader. The strength of the Empire is the best navy in the universe. Army's the pride of every imperial, the success of a military career is a sine qua non of the appearance of a high-powered person. Representatives of this faction command respect with fortitude, ability to stand up for themselves and solidarity.
Empire Sub-factions:
Edit
List of empire ships:Edit
Interceptors:Edit
T1
T2
T3
T4
Magnetar
King Nibelung
Tempest
Leonina
T5
​Fighters:Edit
T1
T2
T3
T4
Prometheus Fire
Spartacus
Castor
Argonaut
Orelus
Loki
T5
Frigates:Edit
T1
T2
T3
T4
T5
Ad blocker interference detected!
Wikia is a free-to-use site that makes money from advertising. We have a modified experience for viewers using ad blockers

Wikia is not accessible if you've made further modifications. Remove the custom ad blocker rule(s) and the page will load as expected.