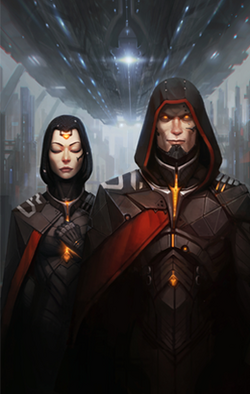 The heirs of people long ago banished from the Earth after their attempted destruction of nearly all of its inhabitants, the Jericho are quite harsh and suspicious towards strangers. Forced to live on the huge space ships flying into the unknown for a long time, the representatives of this faction worked hard to improve their technology, and now Jericho is the most technically equipped faction. They were the ones from Earth who were screened for genetic diseases and who were genetically engineered and optimized for health, intelligence, beauty, and strength. Later, Jericho developments in cybernetics and cybergenetics allowed for the modifications and implantations that transformed the Jericho into almost a new species...and a threat to other humans as unfortunately their newly developed abilities did not include a sense of compassion for those different from themselves.
Their great leaps in cybernetic technology have made them supremely equipped for life in the hostility of space, and they have enhanced their natural abilities to the limits of human development. Both male and female Jericho incorporate nanocrystals into the cellular structures of their bones creating nanocrystal bones capable of withstanding extreme forces. This trait along with nano-genetic enhancement of their muscular systems is especially valuable for Jericho warriors and combat pilots as they are supremely equipped to deal with the high G forces of space combat. In addition, the Jericho possess superior vision as their visual implants take advantage of the tachyon and neutrino particles that make up much of the background radiation in space.  Nano detectors in their retinas decode complex visual information and relay it to their brains so they see and interpret such information faster and better than non-enhanced humans and advanced neural implants allow them to have photographic memories. Ocular implants also significantly enhance Jericho hearing and they can detect sounds that other humans without such implants fail to hear.
Jericho Sub-factions:
Edit
List of Jercho ships:Edit
Interceptors:Edit
​T1
T2
T3
T4
T5
Wakizashi
Wakizashi R
Wakizashi AE
​Fighters:Edit
T1
T2
T3
T4
T5
Frigates:Edit
T1
T2
T3
T4
T5
Inquisitor
Inquisitor AE
Inquisitor S
Mauler
By being in the Jericho faction, missile damage is increased by 2%. (?)
Ad blocker interference detected!
Wikia is a free-to-use site that makes money from advertising. We have a modified experience for viewers using ad blockers

Wikia is not accessible if you've made further modifications. Remove the custom ad blocker rule(s) and the page will load as expected.